"The question of whether there exists a Creator and Ruler of the Universe has been answered in the affirmative by some of the highest intellects that have ever existed." –Charles Darwin, the founder of evolutionary biology, as cited in his book Descent of Man.
Was Darwin himself one of them? Apparently not, though he was strongly drawn to believe on the basis of the physical evidence, the "impossibility that the universe arose through chance."
Charles Darwin (1809 – 1882)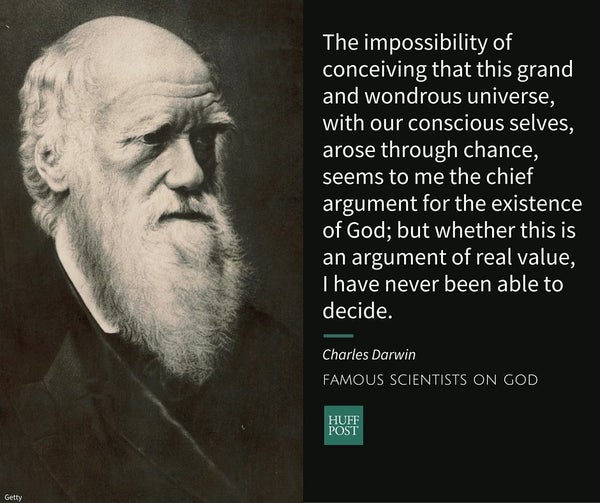 (Credit Imagno via Getty Images)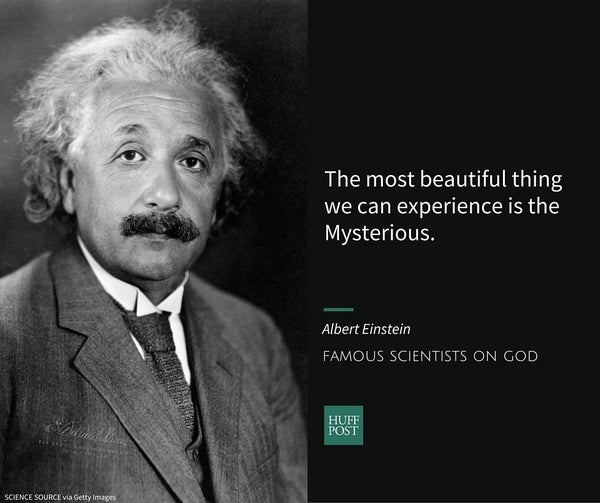 (Science Source via Getty Images)
Albert Einstein is probably the best known and most highly revered scientist of the twentieth century, and is associated with major revolutions in our thinking about time, gravity, and the conversion of matter to energy. Founder of modern physics and Nobel laureate, he recognized the impossibility of a non-created universe. Einstein was born into a secular Jewish family:
"As a child I received instruction both in the Bible and in the Talmud. I am a Jew, but I am enthralled by the luminous figure of the Nazarene . . . . No one can read the Gospels without feeling the actual presence of Jesus. His personality pulsates in every word. No myth is filled with such life. Jesus is too colossal for the pen of phrase-mongers, however artful. No man can dispose of Christianity with a bon mot." –as cited in "What Life Means to Einstein," The Saturday Evening Post, October 26, 1929.
As an adult, he tried to avoid religious labels, rejecting "the idea of a personal God as a childlike one" in the 40s but at the same time separating himself from "fanatical atheists" whom he believed were unable to hear "the music of the spheres."
Here are statements (in chronological order) which he made on the subject of God:
1905: "I want to know how God created this world. I am not interested in this or that phenomenon, in the spectrum of this or that element. I want to know His thoughts; the rest are details."
1921:"Raffiniert ist der Herrgott, aber boshaft ist er nicht." —Remark made during Einstein's first visit to Princeton University (April 1921) as quoted in Einstein (1973) by R. W. Clark, Ch. 14. "God is slick, but he ain't mean" is a variant translation of this (1946) Unsourced variant: "God is subtle but he is not malicious."
Here's what Einstein said in an interview in G. S. Viereck's book Glimpses of the Great, 1930, in response to a question about whether or not he believed in God: "Your question [about God] is the most difficult in the world. It is not a question I can answer simply with yes or no. I am not an atheist. I do not know if I can define myself as a Pantheist. The problem involved is too vast for our limited minds. May I not reply with a parable? The human mind, no matter how highly trained, cannot grasp the universe. We are in the position of a little child, entering a huge library whose walls are covered to the ceiling with books in many different tongues. The child knows that someone must have written those books. It does not know who or how. It does not understand the languages in which they are written. The child notes a definite plan in the arrangement of the books, a mysterious order, which it does not comprehend, but only dimly suspects. That, it seems to me, is the attitude of the human mind, even the greatest and most cultured, toward God. We see a universe marvelously arranged, obeying certain laws, but we understand the laws only dimly. Our limited minds cannot grasp the mysterious force that sways the constellations."
1930: It seems to me that the idea of a personal God is an anthropological
concept which I cannot take seriously. I also cannot imagine some will
or goal outside the human sphere…. Science has been charged with
undermining morality, but the charge is unjust. A man's ethical behavior
should be based effectually on sympathy, education, and social ties and
needs; no religious basis is necessary. Man would indeed be in a poor
way if he had to be restrained by fear of punishment and hope of reward
after death. — Albert Einstein, "Religion and Science," New York Times Magazine, 9
November 1930
1932: "The most beautiful and deepest experience a man can have is the sense of the mysterious.  It is the underlying principle of religion as well as of all serious endeavour in art and science.  He who never had this experience seems to me, if not dead, then at least blind. To sense that behind anything that can be experienced there is a something that our minds cannot grasp, whose beauty and sublimity reaches us only indirectly: this is religiousness. In this sense I am religious.  To me it suffices to wonder at these secrets and to attempt humbly to grasp with my mind a mere image of the lofty structure of all there is." Einstein's "Credo"

1936: "Everyone who is seriously involved in the pursuit of science becomes convinced that a spirit is manifest in the laws of the Universe–a spirit vastly superior to that of man, and one in the face of which we with our modest powers must feel humble." https://quoteinvestigator.com/2011/12/16/spirit-manifest/
In An Ideal of Service to Our Fellow Man, a 1954 essay for NPR, Einstein wrote: "The most beautiful thing we can experience is the Mysterious — the knowledge of the existence of something unfathomable to us, the manifestation of the most profound reason coupled with the most brilliant beauty. I cannot imagine a God who rewards and punishes the objects of his creation, or who has a will of the kind we experience in ourselves. I am satisfied with the mystery of life's eternity and with the awareness of — and glimpse into — the marvelous construction of the existing world together with the steadfast determination to comprehend a portion, be it ever so tiny, of the reason that manifests itself in nature. This is the basics of cosmic religiosity, and it appears to me that the most important function of art and science is to awaken this feeling among the receptive and keep it alive."
"Science without religion is lame, religion without science is blind." –Einstein's essay "Science and religion," 1954.
1954: It was, of course, a lie what you read about my religious convictions, a
lie which is being systematically repeated. I do not believe in a personal God and I have never denied this but have expressed it clearly. If something is in me which can be called religious then it is the unbounded admiration for the structure of the world so far as our science can reveal it. — Albert Einstein, 1954, from Albert Einstein: The Human Side, edited by Helen Dukas and Banesh Hoffman, Princeton University Press
1954: I do not believe in immortality of the individual, and I consider ethics to be an exclusively human concern with no superhuman authority behind it. (Ibid)
It is enough for me to contemplate the mystery of conscious life perpetuating itself through all eternity, to reflect upon the marvelous structure of the universe which we can dimly perceive and to try humbly to comprehend even an infinitesimal part of the intelligence manifested in Nature."
1955: I cannot imagine a God who rewards and punishes the objects of his
creation, whose purposes are modeled after our own — a God, in short, who is but a reflection of human frailty. Neither can I believe that the individual survives the death of his body, although feeble souls harbor such thoughts through fear or ridiculous egotisms. — Albert Einstein, obituary in New York Times, 19 April 1955, quoted from James A Haught, "Breaking the Last Taboo" (1996)
1971: "In view of such harmony in the cosmos which I, with my limited human mind, am able to recognize, there are yet people who say there is no God. But what really makes me angry is that they quote me for the support of such views." Quoted in Clark, Ronald W. (1971). Einstein: The Life and Times. New York: World Publishing Company.
1996: Like Spinoza, Einstein was a strict determinist who believed that human behavior was completely determined by causal laws. For that reason, he refused the chance aspect of quantum theory, famously telling Niels Bohr: "God does not play dice with the universe."[80] 
1997: "The more I study science, the more I believe in God." (The Wall Street Journal, Dec 24, 1997, article by Jim Holt, "Science Resurrects God.")
2001: "I believe in Spinoza's God who reveals himself in the orderly harmony of
what exists, not in a God who concerns himself with the fates and actions of human beings." –Einstein, following his wife's advice in responding to Rabbi Herbert Goldstein of the International Synagogue in New York, who had sent Einstein a cablegram bluntly demanding "Do you believe in God?" Quoted from and citation notes derived from Victor J Stenger, Has Science Found God? (draft: 2001), chapter 3.
2002: "The fanatical atheists are like slaves who are still feeling the weight of their chains which they have thrown off after hard struggle. They are creatures who – in their grudge against traditional religion as the 'opium of the masses' – cannot hear the music of the spheres." —Einstein (from E. Salaman, "A Talk With Einstein," The Listener54 (1955), pp. 370-371, quoted in Jammer, p. 123).
2000-2008 He clarified that "I am not an atheist",[4] preferring to call himself an agnostic,[5] or a "religious nonbeliever."[3] Einstein also stated he did not believe in life after death, adding "one life is enough for me."[6] (Quoted in Wikipedia)
Carl Sagan (1934 – 1996)
Carl Sagan was an American astronomer, cosmologist, astrophysicist, astrobiologist, and author, best known for his work as a science popularizer and communicator. His best known scientific contribution is research on extraterrestrial life. He rejected the label of "atheist" because he was open to the possibility that science would perhaps one day find compelling evidence to prove God. Nevertheless, he thought that the likelihood of that happening was very small. Instead, Sagan talked about "spirituality" as something that happens within the realm of material world, when humans encounter nature and are filled with awe.
*

Romans 1:18-20: For the wrath of God is revealed from heaven against all ungodliness and unrighteousness of men who suppress the truth in unrighteousness,

  because that which is known about God is evident within them; for God made it evident to them.  For since the creation of the world

His invisible attributes, His eternal power and divine nature, have been clearly seen,

being understood through what has been made, so that they are without excuse.


Romans 1:18-20;  Colossians 1:15; Colossians 2:9; John 1:1-18; John 14:9; John 10:30